Blog
21.08.2013
WEEKEND IN WAGGA BY CREATING HOPE IN CAMBODIA
About a year ago I was in Wagga Wagga MC'ing a night for the HIA Awards.  That was a great evening and awesome crowd. I met a lady there Kim Ellings who came and told me about a charity she'd started a couple years ago called 'Creating Hope in Cambodia.' 
They are dedicated to improving the life of families in the most poverty stricken areas of Cambodia by providing housing, safe water, education & sponsorship.  She does an incredible job.
Last Saturday, Aug 17th I went to Wagga Wagga again (NSW) and I was thrilled to be able to help such a great cause by MC'ing their Black Tie Ball for Creating Hope in Cambodia and work with Kim who not only put together a fantastic event, but you could see that she put her heart and soul into it all.
I flew there with Rex Airlines who very kindly sponsored my flight.
Whilst being there I met Pastor Sara San from Cambodia. He is such a humble man and just a genuine awesome guy.  Not many eyes were dry when he was telling his heart-breaking story of growing up in Cambodia.  But I was wrapped to see from chatting with him that he had hope in God and could see the evidence of Romans 8.28  'And we know that for those who love God all things work together for good, for those who are called according to his purpose.'
The event was a great night held at the Wagga Wagga RSL. They had 350 people there, it felt like the whole town. They were a very loud crowd but a fun one to perform to and not only was it a great gig for me but more importantly they raised 75K! Wow! Imagine what they'll do when they get into some of the big cities
All the great photos by Sarah Mifsud www.smpd.com.au
They want me back next year again.  So hopefully they can raise over 100K and see more lives saved.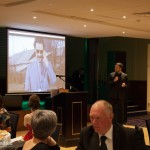 It's always a bit exhausting travelling around the country to do shows, but I love doing what I do and when you work with great people it makes it all worthwhile. Plus it's always so good to come home and see my wife and kids.