Latest News
24.07.2013
CELEBRITIES' GOT TALENT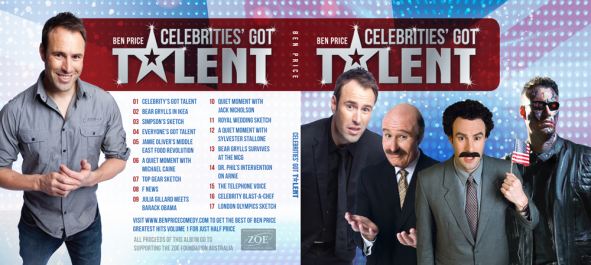 The same name as the show comes Ben's CD, Celebrities Got Talent.
In 2011 Ben Price was a Grand Finalist on the Channel 7 smash hit series Australia's Got Talent. He made the top 8. Ben regularly performs all over the country and internationally and is known as Australia's Best Impersonator.
This CD showcases all the voices you loved hearing Ben do on TV such as Arnold Schwarzenegger, Homer Simpson, Owen Wilson, Ben Stiller, John Cleese etc. To many new ones like Jeremy Clarkson, Seal, Christopher Walken, etc.
They all can be heard in sketches with sound FX so good that you can visualise each one. The comedy is funny, clever and clean.
100% proceeds of this CD go to Zoe Foundation Australia.  Support the cause to help end child trafficking www.zoefoundation.org.au